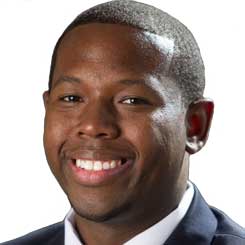 Brother LeVon Barnes is running for Durham City Council Ward 2.  Let's help support him to help this campaign grow.
A few facts and reasons on why you should support Brother Barnes:
As a teacher, he has the opportunity to impact the youth in Durham, teaching the importance of giving back and helping them see skills in themselves that they might not normally see.
In 2005 he founded Young Male Achievers, not just a club, but "a movement", he explains. It's about "civic duty and the responsibly to help people; speaking up for those who cannot speak up for themselves."
He believes that City Council can have an immediate impact on youth if young people are just brought to the table. LeVon is determined to bring positive change to everyone in Durham and believes serving as a Councilman for Ward 2 is the next step.
For more information visit the following website or contact the committee directly.
https://levon4durham.com/
Elect Levon Barnes Campaign
Durham, NC