UPDATE Mar. 27, 2019:  The personal plates are available for pickup.  For the Bros that are interested, you can pick up your personal plate at 1100 New Bern Ave across from Bojangles near St Aug. Go to the main desk and make a right for the specialty plate division. If not, then they should go into the mail by Monday.  You can also call 919.615.6065 to verify that your plate has not been placed in the mail.
Mar. 18, 2019:  If you ordered a standard plate and haven't received your plate nor have you received a letter from the DMV, then please call 919.615.6065.  You can also visit your local DMV License Plate office to place new orders.  If you have a problem placing new orders, then call the number listed above.  New plates will be available to be ordered online by the end of the month.  PERSONAL plates are still on schedule to be mailed out via USPS by the end of the month.
Mar. 5, 2019:  The NCDMV has begun mailing out the sequential numbered plates via USPS.  The plates without an error should be received by next Friday March 15th.  Your new registration is in the front pocket of your renewal package.  If there is an error with your plate, then you will receive a letter in the mail by March 15th with required corrections.  If your current plate has a renewal date <=90 days, then you should get your vehicle inspected and pay the current NCDMV fee to renew your plate.  Following these steps will assist you in receiving your plate ASAP.  If you have a transponder for toll roads, then don't forget to update your new plate information.  Personal Plates should be received by the first week of April.  Brothers not included in the initial offering, can go to their local NC DMV at the end of the month to request a plate.  The request can also be made via the NCDMV website by April 7, 2019.  If you changed your vehicle, then wait for your letter in the mail with instructions on how to receive your plate.
Thanks to everyone for their time and support.  Please remember that a portion of the registration fee will go toward the ANCA non-profit to support programs and scholarships.  Enjoy the plates.
ONWARD AND UPWARD
                 Applications Received: 500+  Goal: 500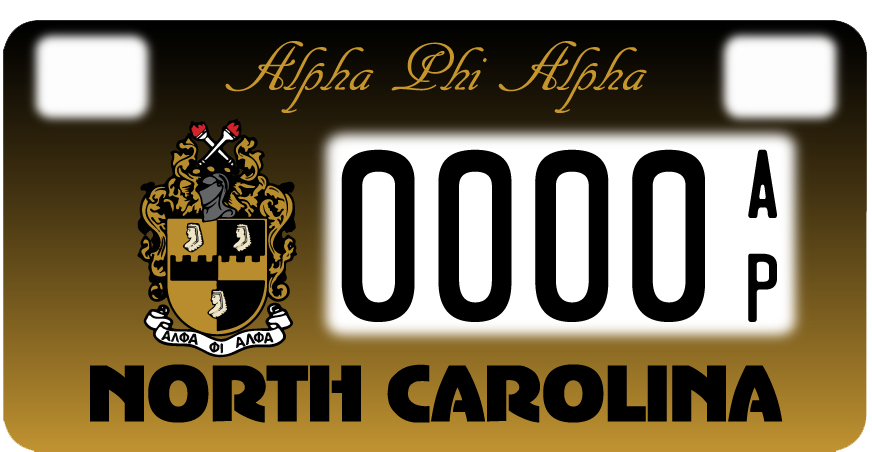 Frequently Asked Questions here.